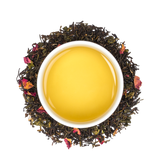 Darjeeling Oolong Retail Tin
Loose Leaf Tea | Oolong
Order in quantities of 6 units per mastercase.

Blending Notes
AROMA: Floral bouquet, delicate
PALATE: Muscatel hint, lingering orchid
PURPOSE: A captivating journey
An epicurean blend that yields a complex body and lingering orchid aroma.
Ingredients
Black tea, oolong tea, green tea, rose petals, jasmine blossoms
Oolong, often the tea of choice for seasoned experts, has orchid-like notes and particularly appeals to those who have a fondness for wines in the Bordeaux style. Darjeeling, known for its muscatel, wine-like character, is the pre-eminent tea for black tea connoisseurs.
Our Blenders select darjeelings of FTGFOP grade (short for Fine Tippy Golden Flowery Orange Pekoe) that are low in tannins but bright in body and midtones that will complement the champagne nature of green oolongs. The overall palate experience is carefully nuanced, reflecting the difficulty in proper balancing two great teas with starkly different levels of oxidation and liquor.
The most difficult challenge is to create an infusion that tastes superior to Oolong or Darjeeling consumed on its own, without overwhelming the established and discerning traditional palate. The inherent complexity of the task is in attaining an optimal balance from two distinctively different teas from distinctly different countries and traditions, with widely different relative densities.