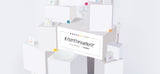 Pantone Collection Gift Box
Signature Teabags | Assortments
Our Master Blender's favorites. A tea lover's dream. Includes 30 Signature pyramid teabags and a recipe booklet with 10 #PaletteForYourPalate cocktail recipes from renowned mixologists of Mandarin Oriental, the Beverly Hills Hotel, The Four Seasons and more.
Ingredients
This assortment box contains 3 Signature pyramid teabags each of: Organic Long Life Green, Organic Imperial Oolong, Organic English Breakfast, Organic Earl Grey with Lavender, Monsoon Chai, Organic Chamomile Blossoms, Organic Peppermint, Organic Vanilla Rooibos, Relax, Energy
Immerse yourself in TEALEAVES' and the PANTONE COLOR INSTITUTE's #PaletteForYourPalate, where a palette of 10 iconic tea blends are muse to over 30+ world-class chefs and mixologists.This rare, travelling exhibit is a feast for the eyes, with the viewer "tasting" the intimate expressions of the culinary artists' rendition of Tea + Color + Mood.