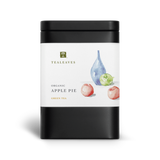 Organic Apple Pie Retail Tin
Loose Leaf Tea | Green
Order in quantities of 6 units per mastercase.
Blending Notes
AROMA: Fragrant apples, cinnamon
PALATE: Warm, hint of sweet spice
PURPOSE: Delight in comfort
Crisp autumn apples enveloped in warm, fragrant cinnamon, nutmeg, and buttery pie crust.
Ingredients
Organic green tea, apple flavor, maple flavor, cinnamon bark
Granny Smith apples, extremely firm and fragrant, and with a deliciously bright, tart flavor, make for the perfect apple pie. In the 1920's, the phrase "as American as apple pie" started to appear in print, and by the end of WWII, apple pie was a wholesome, comforting thought for the soldiers abroad who were missing their homes and families. Whether or not to put a slice of cheese on top of your apple pie, that's a tradition dating back to 17th and 18th century England, the birthplace of Cheddar and the apple pie. As well as afternoon tea. I think the Duchess of Bedford would approve.