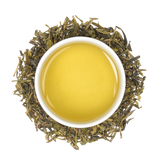 Harmony Retail Tin
Loose Leaf Tea | Herbal
Order in quantities of 6 units per mastercase.
Blending Notes
AROMA: Fresh & spicy
PALATE: Mint balanced with spice
PURPOSE: Balance the body
A fresh and minty herbal blended for complexity, balanced with the fragrant notes of allspice.
Ingredients
Peppermint leaves, chamomile flowers, allspice
It started out as an experimental composition, an attempt to create three distinct layers of flavour: the freshness of mint, followed by the mild apple-like medium tones of chamomile, and in the backend and on the edge of the structure of taste, allspice. The result was a modern and melodious masterpiece, a perfect blend of complexity and ease in a teacup!
Observe these complex flavors combine in a tiny teacup. You will wonder whether they were meant to be blended together. Some flavors are only possible through such blending concoctions and the flavor produced by our Harmony blend is one of them! In concert with the herbal philosophy, Harmony is well-suited as a digestive aid and for detoxification purposes. It also makes an excellent, bracing, and healthy iced tea.