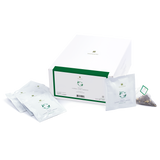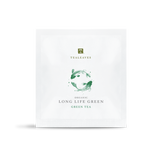 Organic Long Life Green - 50 Count
Signature Teabags | Green
Blending Notes
AROMA: Fresh with hay notes
PALATE: Light and refreshing
NOTES: High antioxidants and low caffeine
High in vitamins and antioxidants. Enjoyed for its subtle flavor and gentle character.
Pantone Collaboration
A symbol of health and balance, the koi is the muse of Organic Long Life Green. TEALEAVES x Pantone Color Institute™ brought the koi to life through color with PANTONE 716 C.
Ingredients
Organic green tea and organic marigold flowers
Our Blenders meticulously procure and blend out up to seven China Anhui tea garden harvests, using 1st flush (spring) Young Hyson teas. Known as "Flourishing Spring" or "Yu Chin Cha," this organic green tea is selected from Chun Mee (small, twisted leaf) with a small percentage of Foong Mee (larger, curly leaf).
"This lush green shade enhances our sense of well-being by inspiring insight and promoting harmony."
- Laurie Pressman | Vice-President, Pantone Color Institute™
To evoke the ethos of Organic Long Life Green, TEALEAVES and Pantone Color Institute™ conducted an Exploration in TEA + COLOR + MOOD.
To complete the experience, Pantone Color Institute™ selected a color that would elicit the mood and champion the muse.
MOOD: Enlightened
MUSE: The Koi
COLOR: PANTONE 349 C
Immerse yourself at PaletteForYourPalate.com.