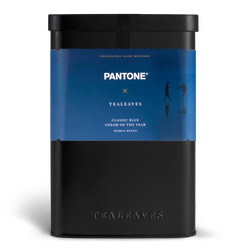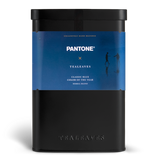 Pantone Color of the Year 2020 Wholesale Tin
Loose Leaf Tea | Herbal
Blending Notes
AROMA: Sweet fruit perfume, memorable citrus
PALATE: Tranquil mélange of peaceful berry notes
PURPOSE: Expand horizons
Inspired by the rich symbolism associated with PANTONE 19-4052 Classic Blue, TEALEAVES' Master Blenders have used the highest grade botanicals to blend a wellness-oriented herbal berry mélange; the epitome of a perfect palate expression.
Ingredients
Butterfly pea flower, lemon verbena, lemongrass, rose petal and Firmenich flavor
Butterfly pea flower, a flower native to South-East Asia, is the key ingredient utilized to encapsulate the elegant blue tone of the Pantone Color of the Year 2020, PANTONE 19-4052 Classic Blue.
Beyond its color, butterfly pea flower is filled with antioxidants, flavonoids, and peptides, having been traditionally consumed as a memory enhancer, brain booster, and calming agent.
Add citrus and watch as the Classic Blue tone transforms into a brilliant violet hue, evocative of the shades of the night sky at dusk.