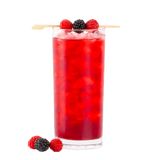 Berrylicious
Iced Sachets | Herbal
Sizzling heat, waves. Childlike wonder, wanders. Imagination flowers. Playful curiosity builds sandcastles in the sky. The joy of being carefree.

Pitcher-
Perfect


Wholesome
Ingredients


Plant-Based
Packaging

Luscious berries entice with natural sweetness, a caffeine-free attitude & ruby red, icy refreshment.
Ingredients
Hibiscus, apple, blackcurrant, raspberry, rosehip, strawberry, elderberry, natural flavors
With wisdom & artistry, our Master Blender picks only leaves bold enough to stand up to the rigors of icing.
Juicy & refreshing, a melody of sweet berries form a ripe arrangement of flavours in a glass.
Using color, aroma and taste as our guides, we create teas that are truly exceptional.
At TEALEAVES, details matter. Born from Nature, our tea feels most at home cradled by materials as natural as they are. Seeking to make our footprint as small as possible, our box is 100% recyclable while the inner pouch, made from a renewable plant-based material, is home compostable. If that was not enough, the iced tea sachets themselves are lovingly packed by hand into unbleached, home compostable paper as well. These choices help us to sleep in a world better for all.