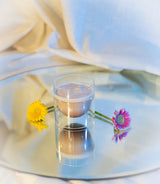 Organic Wild Dandelion Cocoa
Botanical Powder
Soul-soothing hot cocoa packed with natural antioxidants.
AROMA: Chocolate, powerful
PALATE: Rich, strong body
PURPOSE: Healthy indulgence
Organic dandelion root, organic unroasted raw cacao, organic moringa leaf, organic wheatgrass
CAFFEINE-FREE
BLEND NO. 5112
Take time out of your day for a moment of self care for your body and mind. This blend is the ultimate pick me up – with a healthy dose of greens hidden in a delicious chocolate flavor.