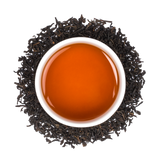 Lapsang Souchong Wholesale Tin
Loose Leaf Tea | Black
Blending Notes
AROMA: Heady pine smoke
PALATE: Full mouthfeel, tarry finish
PURPOSE: Self-discovery
Smoky, intoxicating flavor, a wonderful accompaniment to savoury dishes and dark chocolate delights.
Ingredients
Black tea smoked with pine needles
Lapsang Souchong or Zhengshan Xiao Zhong, literally means "small plant from Lapu mountain". The amount of smokiness from roasting can be varied to produce a very smoky version (Tarry Souchong). Smoke houses, several stories high, are used for modern production. At the bottom, pine needles burn and are carefully controlled by the Master Smoker to enunciate the key notes of the tea without having the smoke overwhelm the entire character. Lapsang Souchong is one of the first Chinese black teas to be introduced to the Western world.