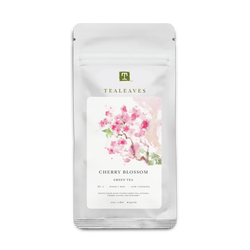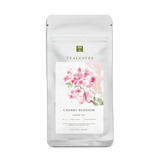 Cherry Blossom Sampler
Loose Leaf Tea | Green
May only include 1 sampler per order.

Blending Notes
AROMA: Mildly grassy & cherry
PALATE: Supple, well-balanced
PURPOSE: Savor fleeting moments
Grassy Japanese Sencha green tea lightly infused with sweet candied cherry.
Ingredients
Estate grade hand-picked green tea, natural cherry flavor, and blossoms
As spring awakens, delicate pink and white cherry blossoms begin to bloom. The flourishing of these blossoms is exquisite, yet ephemeral; a fleeting moment in time.
Beginning as early as the Nara period (AD 710-794), Hanami has been the longstanding Japanese tradition of viewing the cherry blossoms at their peak. Historically a celebration of the arts, these festivities brought aristocrats, poets and musicians together under a blanket of petals, enjoying a seasonal feast.