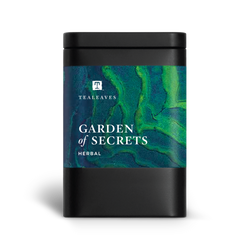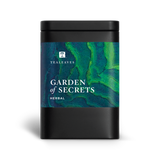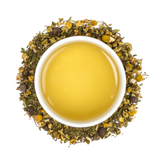 Garden of Secrets Retail Tin
Loose Leaf Tea | Herbal
Order in quantities of 6 units per mastercase.
Blending Notes
AROMA: Minty & fresh
PALATE: Earthy richness with a subtly sweet finish
PURPOSE: Blooming inspiration
Step into the Garden with this earthy, eclectic melange reminiscent of obscure tonics and elixirs.
100% of the proceeds for this blend go to UBC Botanical Garden.
Ingredients
Organic chamomile, organic peppermint, allspice, ginger, licorice, basil, yarrow flowers, hawthorn leaves, birch bark
The fruits of a 5-year project between TEALEAVES and The University of British Columbia Botanical Garden have bloomed! All proceeds from the purchase of this blend are donated to UBC Botanical Garden.
The Garden of Secrets herbal blend is inspired by reflecting on the beauty of nature and the unique healing and health properties derived from cultivating the rarest botanicals. This earthy, eclectic melange is reminiscent of obscure tonics and elixirs.
Discover beauty, balance, and inspiration. Step into TheGardenOfSecrets.com to learn the story behind TEALEAVES' commitment to preserving botanical gardens.