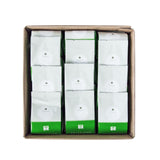 Ginger Mango Peach Wholesale Case
Loose Leaf Iced Tea | Black
Each case contains 36 pouches of loose leaf iced tea (100g each). Each pouch makes 3 gallons.
Blending Notes
AROMA: Sweet and spicy with a lingering tropical nose
PALATE: Well-balanced
Ingredients
Black tea, natural peach and ginger flavors
Reminiscent of a Georgia summer, the lustrous flavors of radiant peach embolden black tea leaves. This blend lends itself well to both sweetened and unsweetened iced teas. As with all our iced teas, it is great served alone or with alcohol.