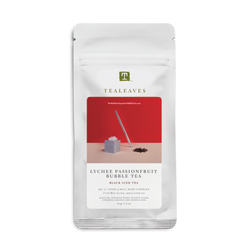 Lychee Passionfruit Bubble Tea Sampler
Loose Leaf Iced Tea | Black
Blending Notes
AROMA: Delicately rosy, grapey tones, lightly floral
PALATE: Exotic composition, opulent body with tropical zest
Ingredients
Black tea, pineapple pieces, coconut flakes, pineapple, coconut, and lychee flavor
Blended specifically for TEALEAVES' World's Most Expensive Bubble Tea project in collaboration with The St. Regis San Francisco's Executive Chef Franck Desplechin for San Francisco Design Week 2017. TEALEAVES' Master Blenders created a Lychee Passionfruit Bubble Tea blend of whole tea leaves blended specifically for ice, using an approach completely different than that for hot tea.
Riffing off Chef's elevated bubble tea recipe, called the "Boba Teashake", and particularly the challenging salted caramel foam and passionfruit coulis, the blend had to simultaneously highlight salt with cream, while balancing tropical fruity notes. The discordance of salt, fruit, cream living in the same space as tannins and maltiness was finally solved through extensive recipe formulation, using the right lychee and passionfruit natural oils grounded in a medium-body black tea.
ABOUT THE WORLD'S MOST EXPENSIVE BUBBLE TEA PROJECT
The art of tea meets the art of culinary, as TEALEAVES x The St. Regis San Francisco "shake up the status quo" and re-imagine bubble tea—from responsible sourcing to five-star culinary techniques—elevating the common beverage to the world of fine dining. Created in honor of the theme for San Francisco Design Week (SFDW) 2017, "Question Everything". The result is the birth of a new world-class beverage: the Boba Teashake.
Shake up the status quo. It's bubble tea, re-imagined.

Explore the full TEALEAVES x The St. Regis San Francisco Collaboration at WorldsMostExpensiveBubbleTea.com.