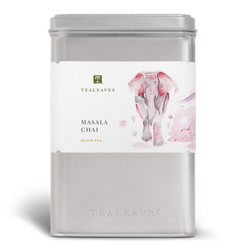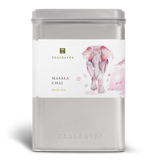 Masala Chai Wholesale Tin
Loose Leaf Tea | Black
Blending Notes
AROMA: Rich & spicy
PALATE: Decadent, rich spiciness
PURPOSE: A decadent journey
A complex, spicy blend of Indian Assam tealeaves swirling in a flavorful dance with freshly hand-ground spices. Best enjoyed as an infusion with warm milk, traditional style.
Ingredients
Black tea, chicory, cardamom, cloves, cinnamon bark, ginger root, star anise, licorice, and natural flavors
Masala Chai – literally, spiced tea – is made with a mixture of aromatic Indian spices and herbs. There is generally no fixed recipe for Masala Chai tea in India and traditionally, many families have their own versions of the tea.
Our blending philosophy is to use high-quality spices with strong, aromatic character and to carefully balance the competitive notes of cardamom against the mouth-numbing cloves and strong cinnamon. Evoke the mystery of far-off lands with a cup of this richly-spiced elixir of loose leaf Masala Chai.