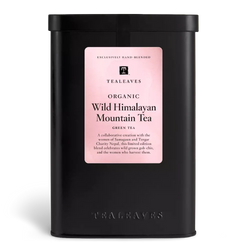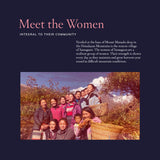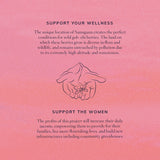 Organic Wild Himalayan Mountain Tea Wholesale Tin
Loose Leaf Tea | Green
Blending Notes
AROMA: Meritage of rose and berries
PALATE: Fruit-forward, sweet meets tart
PURPOSE: Empower the Sipper and Sower
A collaborative creation with the women of Samagaun and Terar Charity Nepal, this limited edition blend celebrates wild grown gob-chis, and the women who harvest them.

Ingredients
Organic young hyson, organic gob-chi, elderberry, hibiscus, currants, Saskatoon berry, marigold, roses, natural strawberry flavors
Working closely with the 27 women of Samagaun & Tergar Charity Nepal, we created the Organic Wild Himalayan Mountain Tea blend to benefit the women and the biodiversity that surrounds them.
In Autumn, the women harvest wild grown, organic, gob-chi berries. Himalayan goji berries are of the highest quality, maintaining their complex flavors and nutritious benefits, and are high in antioxidants. Hand-picked by the women, each gob-chi berry comes from wild bushes growing at 3,550m altitude. They are cleaned by hand and dried in specifically designed solar dyers.
The focus of this social impact TEALEAVES project is to listen, share, and collaborate with the women to assist them in the creation of a sustainable brand, and international reputation for their gob-chi berries by 2026.

Every purchase will help the women gain empowerment within their community as they grow their infrastructure and cultivate their land to increase their harvest in a biodiverse manner, so that it can prosper for decades to come.