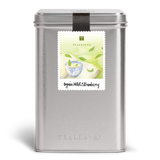 Organic Wild Strawberry Wholesale Tin
Loose Leaf Tea | Green
Blending Notes
AROMA: Fruity & vibrant
PALATE: Sweet, light liquoring
PURPOSE: Escape into strawberry fields
A refreshing "rolled and twisted" Chinese green tea infused with the sweetness of wild strawberries.
Ingredients
Organic green tea, natural strawberry flavor
Our goal in the blending of flavored and perfumed teas is to achieve a harmonious balance among high, mid, and low notes of the infusion. All of our teas are blended only using top-quality grades without compromise.