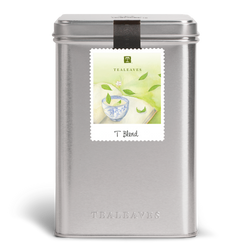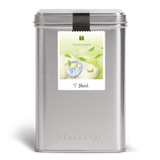 T-Blend Wholesale Tin
Loose Leaf Tea | Black
Blending Notes
AROMA: Floral & sweet
PALATE: Grapey, sophisticated, flowery
PURPOSE: Elevate your palate
Our signature connoisseur blend combines the best tea characteristics from every corner of the world.
Ingredients
Black tea, oolong tea, marigold flowers, rose petals
The blending philosophy inherent in this blend addresses our understanding of palate. Here, each chest of tea is carefully cupped (in the morning, when the blenders palate is freshest) and scrutinized. Carrying the memory of each sip, the Master Blender integrates the key notes of each tea ingredient so as to achieve balance. It is not skill to add one tea varietal to another. The skill lies in properly integrating flavour and balancing deficiencies in one chest by masking or subsuming it with a flavor profile that has the desired positive attributes. All notes must be harmonious, so the overall effect on the taste is a coordinated, understanding of flavor.