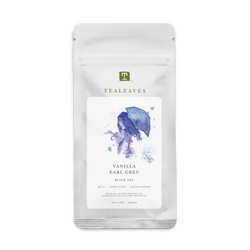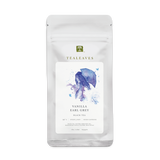 Vanilla Earl Grey Sampler
Loose Leaf Tea | Black
Blending Notes
AROMA: Sweet, citrus perfume
PALATE: Tantalizing vanillin
PURPOSE: An uplifting, fragrant treat
A creamy full body Earl Grey with an exquisite lingering finish.
Ingredients
Black tea, natural bergamot oil, Madagascar vanilla flavors, rose petals
The type of bergamot oil used in an Earl Grey blend makes an immense difference. Natural bergamot essential oil has a more subtle, but well-defined flavor, with zest and a genuine citrus intensity. Conversely, synthetic bergamot is more one-dimensional, having a tendency to taste timid in the cup. The former is what we have always chosen to use at TEALEAVES. Vanilla is the second most expensive spice after saffron, as there is extensive labor required to grow the seed pods. Despite this setback (or perhaps because of it), it is highly valued for its flavor, and is widely used in both the commercial and domestic spheres in baking, perfumeries, and aromatherapy. In our Vanilla Earl Grey loose leaf tea, vanilla adds roundness and rich character to the citrus appeal from the oil of bergamot present in our Earl Grey blends.