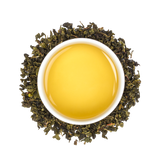 Osmanthus Flower Retail Tin
Loose Leaf Tea | Oolong
Order in quantities of 6 units per mastercase.
Blending Notes
AROMA: Luscious, velvety apricot
PALATE: Sophisticated, pronounced sweetness
PURPOSE: Savor the exquisite
Rare osmanthus flowers delicately scent this top-grade high mountain Formosa oolong.
Ingredients
Oolong tea and osmanthus flavor
Osmanthus (gwai fah or Osmanthus fragrans) is native to many regions in Asia and produces beautiful, yellow, exotically fragrant flowers. One of the most expensive ingredients in perfumes and teas, osmanthus is placed next to oolong leaves and scenting is conducted using the imperial method, whereby the tealeaves absorb the fragrance of the osmanthus flowers. It is highly coveted and prized for its champagne aroma and deep, rich flavour. Osmanthus flower oolong tea has been highly revered in China for centuries. To tea lovers and aficionados, these sophisticated teas represent the pinnacle of much that is exotic and captivating about Chinese tea.