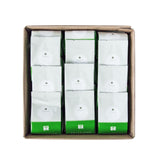 Berry Wholesale Case
Loose Leaf Iced Tea | Herbal
Each case contains 36 pouches of loose leaf iced tea (140g each). Each pouch makes 3 gallons.
Blending Notes
AROMA: Ripe, pungent, fruity scent
PALATE: Full and strong with a sweet finish
Ingredients
Saskatoon berries, currants, hibiscus, rosehips, seneka, blueberries, cranberries, apple, flowers, and herbs
With its ripe, fruity scent, this beverage combines bold, fruity taste with an attractive burgundy color that looks great in a tall glass or dispenser, enabling you to ride the heat waves stylishly and effortlessly every hot day.
For a spectacular presentation, freeze grapes, blueberries, raspberries, or blackberries on a wooden skewer and place in glass with ice before adding tea.