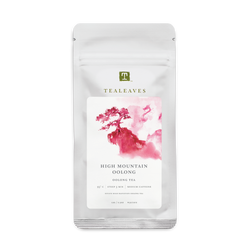 High Mountain Oolong Sampler
Loose Leaf Tea | Oolong
Branches bent by the will of the wind. Mysteries abound amongst the mists. What ancient secrets pervade such a space? Only the most adventurous will find out.
Blending Notes
AROMA: Golden orchid
PALATE: Sophisticated mouthfeel
PURPOSE: Noble contemplation
Gao Shan Oolong (High Mountain) is grown on lush tea fields along the steep slopes of Taiwan and China.
Ingredients
Estate high-elevation oolong tea
In tea vernacular, the specific and unique characteristics of the region (soil, sun, mist, farming techniques, and traditional processes) will give the tea a "sense of place." Akin to 1st growth Bordeaux regions, tea gardens have specific reputations and varietal senses. Our role as blenders is to carefully marry the vagaries of each tea chest and in small batches, meticulously correct "deficiencies" in the terroir of that specific tea harvest by blending it with other varietals.High-elevation (gardens above 1000 m) dramatically affects the character of the tea infusion - the concept of terroir (the "land"). Tea bushes grown in high elevation will have lower yield as the plant grows slowly in more challenging conditions, but as a result, will concentrate the important essential oil and flavour molecules in each leaf. The leaves are smaller and more tender, yielding highly concentrated flavour and fragrance.Just as with green and black teas, oolongs are defined by flushes (1st spring, 2nd summer, and 3rd fall). We typically prefer 1st and 2nd flush oolongs and use 3rd flush oolongs only for higher oxidation blending - a technique employed for blending with darjeelings and other bold, malty teas for custom blends.