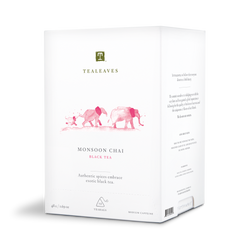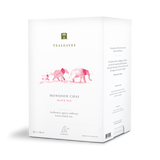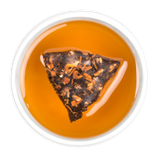 Monsoon Chai - 12 Count
Signature Teabags | Black
Order in quantities of 12 units per master case (each unit holds 12 teabags).
Blending Notes
AROMA: Rich & spicy
PALATE: Decadent, rich spiciness
MOOD: Exotic
Authentic spices & layers of flavor honor the rich heritage of this exotic blend.
Pantone Collaboration
Speaking to the exotic natures and origins of our Monsoon Chai, the Elephant is the muse. TEALEAVES x Pantone Color Institute™ brought the Elephant to life through color with PANTONE 205 C.
Ingredients
Black tea, cinnamon, cardamom, cloves, nutmeg, ginger, natural flavors
Masala Chai – literally, spiced tea – is made with a mixture of aromatic Indian spices and herbs. There is generally no fixed recipe for Masala Chai in India and traditionally, many families have their own versions of the tea. Enjoy the tradition of Masala Chai in a teabag with our Monsoon Chai.

Our blending philosophy is to use high-quality spices with strong, aromatic character and to carefully balance the competitive notes of cardamom against the mouth-numbing cloves and strong cinnamon. Evoke the mystery of far-off lands with a cup of this richly-spiced elixir of life.
"Dazzling and dynamic, this bright, vibrant pink is passionate and playful."
- Laurie Pressman | Vice-President, Pantone Color Institute
To evoke the ethos of Monsoon Chai, TEALEAVES and Pantone Color Institute conducted an Exploration in TEA + COLOR + MOOD.
TEA: Monsoon Chai
MOOD: Exotic
MUSE: The Elephant
To complete the experience, Pantone Color Institute™ selected a color that would elicit the mood and champion the muse. This color was PANTONE 205 C.
Immerse yourself at PaletteForYourPalate.com.