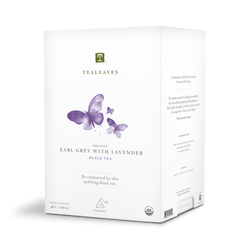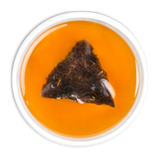 Organic Earl Grey with Lavender - 12 Count
Signature Teabags | Black
Order in quantities of 12 units per master case (each unit holds 12 teabags).
Blending Notes
AROMA: Vibrant citrus fragrance
PALATE: Rich, memorable intensity
MOOD: Enchanted
Naturally uplifting bergamot embraces lavender, invoking positivity & contentment.
Pantone Collaboration
A symbol of personal transformation and the lightness of being, the Butterfly is the muse of Organic Earl Grey with Lavender. TEALEAVES x Pantone Color Institute™ brought the Butterfly to life through color with PANTONE 7677 C.
Ingredients
Organic black tea, organic lavender, natural bergamot oil
This blend uses certified organic, ultra lavender freshly harvested in Provence, France. It is the highest quality lavender (tea grade) with the greatest concentration of floral essential oils, and the addition of lavender in an Earl Grey blend is a beloved one in France. Lavender is thought to have been used in Roman times to scent baths and bed linens, hence its name derived from the Latin word, lavare (to wash). Natural bergamot oil is known for its calming, uplifting, and restorative properties.
"A fascinating dichotomy of meditative blue and explosive red, this intriguing purple hue is magical and non-conforming."
- Laurie Pressman | Vice-President, Pantone Color Institute™
To evoke the ethos of Organic Earl Grey with Lavender, TEALEAVES and Pantone Color Institute conducted an Exploration in TEA + COLOR + MOOD.
To complete the experience, Pantone Color Institute™ selected a color that would elicit the mood and champion the muse.
MOOD: Enchanted
MUSE: The Butterfly
COLOR: PANTONE 7677 C
Immerse yourself at PaletteForYourPalate.com.