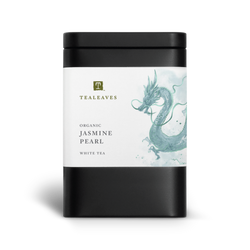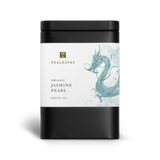 Organic Jasmine Pearl Retail Tin
Loose Leaf Tea | White
Order in quantities of 6 units per mastercase.
Blending Notes
AROMA: Heady jasmine blossom
PALATE: Expansive & lively
PURPOSE: Indulge in the exquisite
The heady aroma of jasmine is released as the pearls gently unfurl.
Ingredients
Connoisseur grade, hand-rolled, jasmine white tea
Jasmine blossoms are picked during the heat of the day, when the flowers are closed tight. The scenting is done in the cool of the evening when the blossoms open, releasing their intoxicating scent. The blossoms are heaped in piles next to the drying tealeaves, which absorb the fragrance of the jasmine. This process is repeated up to seven times for the most prized jasmine teas such as this Organic Jasmine Pearl. It is important to use fresh, cold water (use reverse osmosis, low mineral water) that has a high oxygen content with white teas - particularly teas of single estate varietal. Best drunk in the morning, when your palate is fresh.