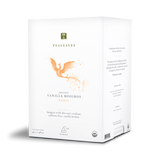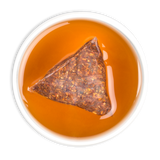 Organic Vanilla Rooibos - 12 Count
Signature Teabags | Rooibos
Order in quantities of 12 units per master case (each unit holds 12 teabags).
Blending Notes
AROMA: Fragrant caramel
PALATE: Opulent, creamy structure
MOOD: Imaginative
Nurtured by the South African sun. Full-bodied & rich in vitamins, minerals & anti-oxidants.
Pantone Collaboration
Both the phoenix and the rooibos plant rise from earth to sun, evoking renewal. TEALEAVES x Pantone Color Institute™ brought the Phoenix to life through color with PANTONE 714 C.
Ingredients
Organic rooibos, organic natural flavors
Rooibos comes from the rugged slopes of the Western Cape Mountains in South Africa. In 1772, botanist Carl Humberg discovered that the locals of the Cape's Cedarberg region made a sweet tasting "tea" of the indigenous "red bush" plant. They picked the stems and leaves, bruised them with hammers, left them in piles to ferment, and then dried them in the sun. Traditionally drunk by the region's Khoi peoples, the infusion tastes like black tea yet has no caffeine, is low in tannin, and is packed with vitamins, minerals, and antioxidants.
"A welcoming shade that embraces, this happy and friendly orange is good natured in spirit and delicious in its appeal."
- Laurie Pressman | Vice-President, Pantone Color Institute™
To evoke the ethos of Organic Vanilla Rooibos, TEALEAVES and Pantone Color Institute™ conducted an Exploration in TEA + COLOR + MOOD.
To complete the experience, Pantone Color Institute™ selected a color that would elicit the mood and champion the muse.
MOOD: Imaginative
MUSE: The Phoenix
COLOR: PANTONE 714 C
Immerse yourself at PaletteForYourPalate.com.